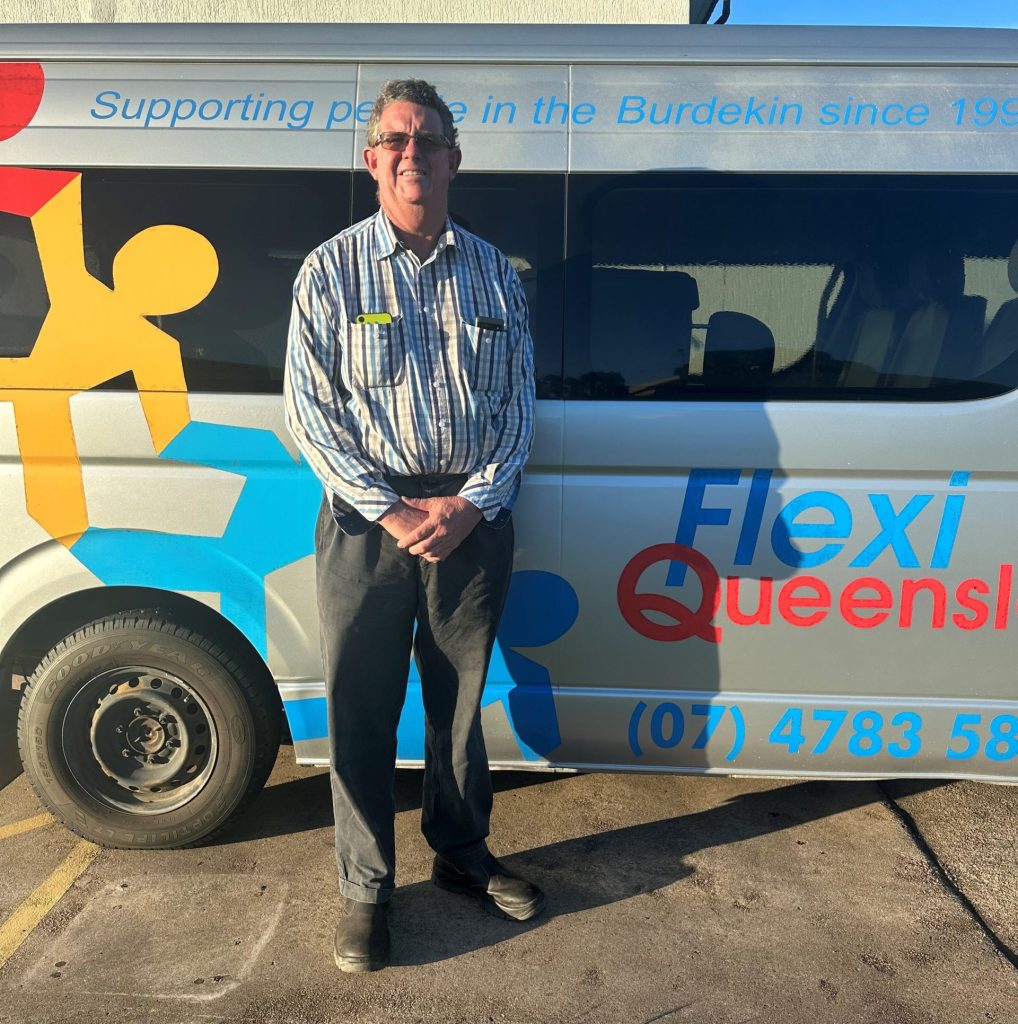 Ian Shepherdson is a Canefarmer in the Home Hill District and has been there for the last 30 Years.  He was brought up on a farm in Central Queensland worked around remote parts of Queensland for 6 years prior to moving to the Burdekin. He is Married with 4 children. The Third (deceased) was a child with many disabilities and was the reason for their first involvement with Flexi Queensland 26 years ago.  Ian then became a board member soon after that. He has been the Chairperson for over 20 Years. His professional life is farming. He enjoys what he does and has and is still involved in various other committees along his journey. He is Committed to the continued success of Flexi and has found it rewarding although challenging at various times as changes happen.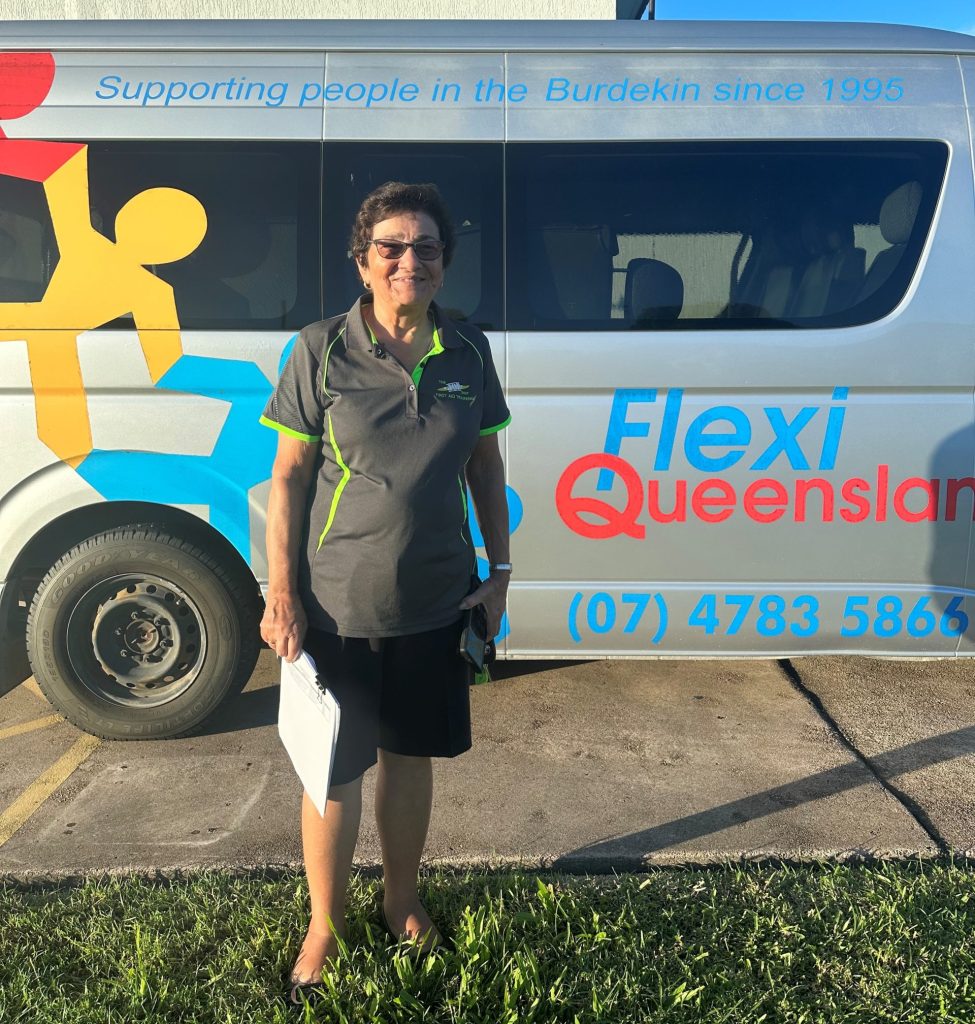 Deputy Chairperson and Secretary
Maryann Petersen has been on the board of Flexi Queensland since its conception 1994 Maryann has seen a lot of changes in the disability services and is very passionate about the service users and their families.  She strives to become part of delivering a great service for the people of the community.  Maryann has been part of many different committees mostly to do with young people as she is very interested in the future of the community.  Maryann has been in business since 1974 so she brings to the board a very strong scents of business in the community attitude.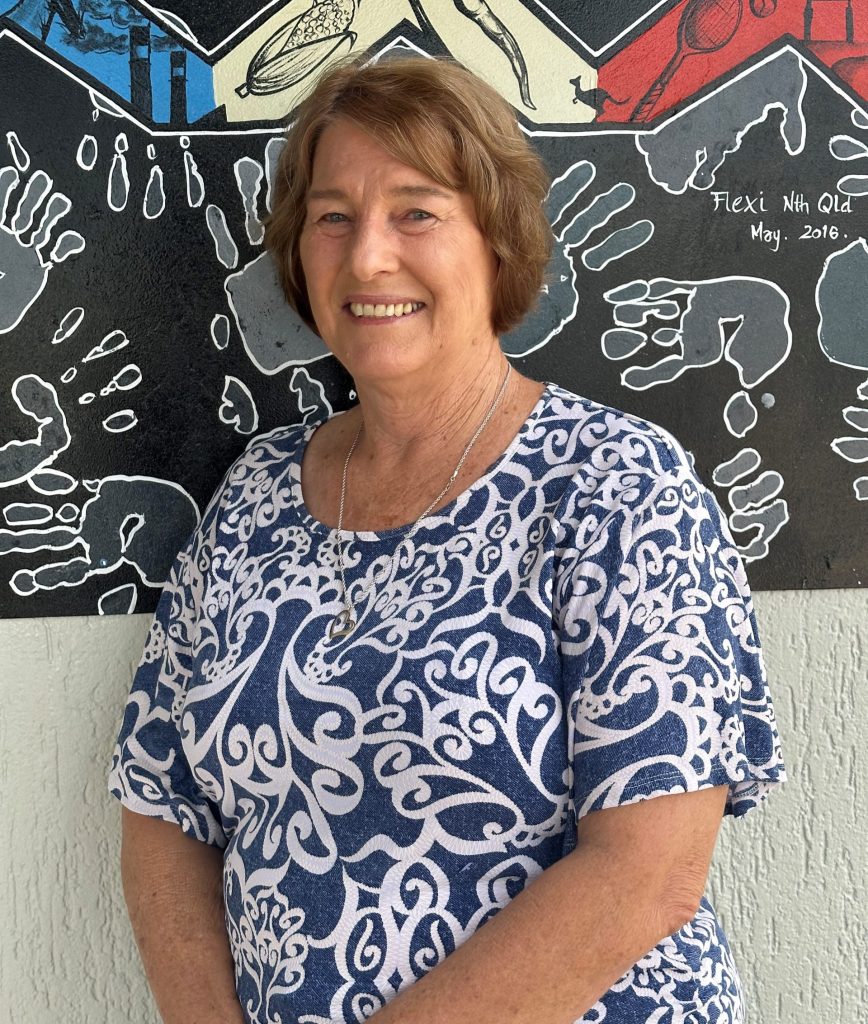 Sue Malaponte has served on the Board of Flexi for over 16 years.  Sue brings with her a strong financial background having worked in finance and senior levels of banking for 38 years. Sue has strong ties to the local community being involved with many people and organisations, but it is the disability sector where Sue's passion lies.  As treasurer and director Sue has helped navigate Flexi Queensland through many changes to become a strong advocate and leader in the disability community within the region.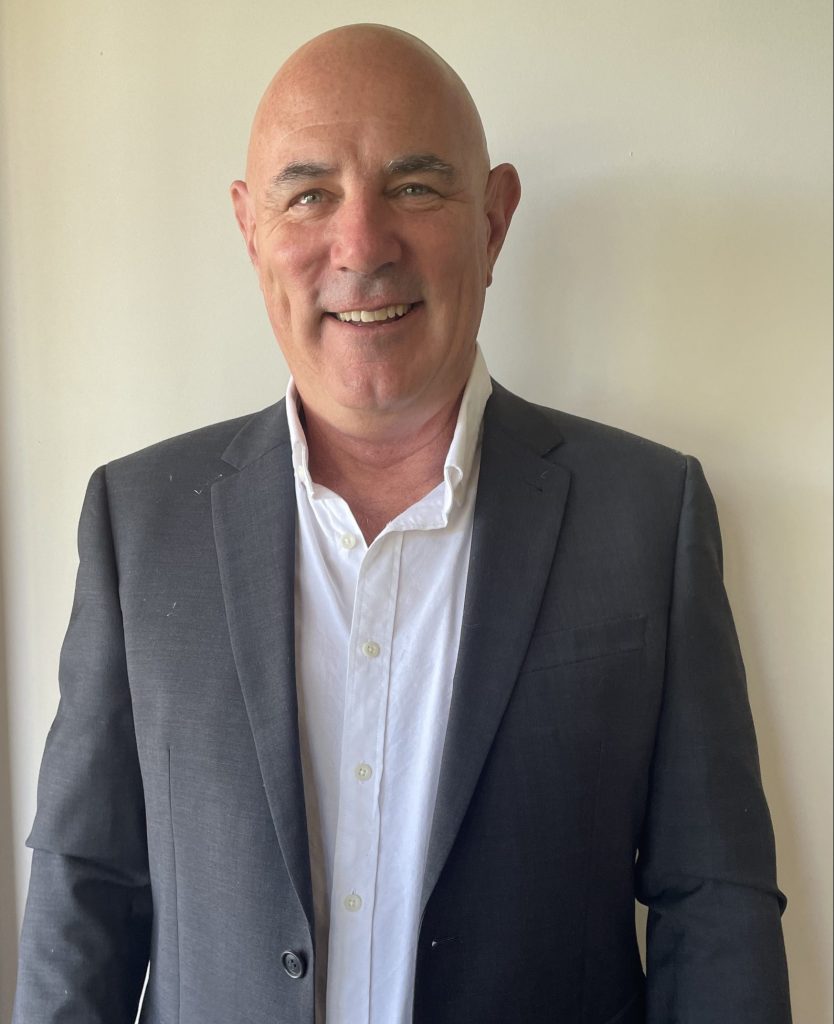 Rick Spark is a recognised local Building Designer bringing over 30 years' experience in not only building design and construction but also business management to the Flexi Queensland Board. Being a customer driven, resourceful and solutions-oriented Building Designer equipped with a wide base of skills and experience, Rick is passionate about improving disability services and has served on the Board of Flexi Queensland since 2014. Rick holds an Associate Diploma in Architectural Drafting, is a QBCC Licensed Building Designer and is also a full Member of Building Design Queensland.
Specialist support services with a diverse and flexible approach
As a provider of specialist support services, Flexi Queensland considers its model to be unique. Instead of focusing on the disability of the Service User, our flexible approach emphasizes the Service User's aspirations and what they can accomplish. Diversity, independence, and creativity are encouraged at our organisation; we consider each individual's needs and work hard to meet their specific support requirements.
Our Specialist Teams have been developed to ensure that we have a structural response to the life stage needs of Service Users. Each teams have a Team Leader who provides specialist support and information to the Lifestyle Facilitators. They provide a linking between families, Service Users and the organisation.
Junior Team – Under 18's: Works closely with the School and families to ensure congruency of skills focus and behavioural plans. Emphasis on friendships and fun within this context.
Young Adult Team – Focus on independence, skills development, friendships and social/community networking.
Older Adults Team – For service users nearing retirement and for Young Adults with due consideration for psycho-social changes that accompany older lives.
Mental Health Team – Partnership with Burdekin Community Mental Health, Mainstream based recovery model.
Intake and Assessment Team – Excellence in person centred planning.
Centre Team – Integrating individual goals with choice in activity plans and rostering.
The beginnings of 'Flexi' were firmly rooted in the community of the Burdekin Community decades ago, where parents of children with disabilities came together to garner support and ideas and try to draw some funding into the community. It started in Ayr and was built for local families, by locals. This grew to become Flexi Queensland, who has been providing support services to users across the Burdekin for over 20 years and has transformed from a small operation into the fantastic Not-For-Profit that you see today. As one of the most innovative and modern organisations to provide support in North Queensland, we are very proud of the foundations we have built in this rural community and plan to continue serving the Burdekin for many years to come.
As part of the NDIS program, Flexi Queensland provides supports to eligible people with disabilities so that they can spend more time with their families and friends, become more independent, improve their quality of life, gain new skills and jobs or volunteer opportunities.
At Flexi Queensland, we understand that families and communities are constantly evolving. As such, we are committed to being responsive to the changing needs of our Service Users. Whether it is providing support within family or friendship settings, or through offering community-based services, we aim to meet the needs of those we serve in the best way possible. By remaining flexible and adaptable, we hope to provide a high level of care and support that meets the ever-changing needs of our Service Users.
We called our model of service delivery "The Flexi Philosophy an Evolving Model of Service." This model sits squarely in Strengths Based Theory and Practice, connected with the Mental Health Recovery Model for our Mental Health services. It is also based on the teachings of Michael Kendrick which focuses on meeting the evolving needs of service users.
Connected with the Mental Health Recovery Model for our Mental Health service.
We are Service User driven – we find ways to make things happen.
We focus OUTWARDS into the community not inwards to ourselves.
We look to the community for accessing services NOT to us to provide duplicate services.
We will focus on finding ways to provide that which does not exist to meet ongoing needs of our Service Users.
We mean integration NOT interaction with the community.
We mean participation NOT placement within the community.
GOVERNANCE: Our Board understands our day-to-day operations through representation, participation and engagement with the community, our families and Service Users and our teams. The Board creates the environment for careful innovation and development of service opportunities and the Board provides a framework for long term planning. The Board concentrates on what is possible and dreams of what might be possible.
SKILLS: We believe all our Service Users have talents and abilities. It is our responsibility to support Service Users to not only maintain skills, but to develop new ones. We believe that this is possible regardless of the age of the Service User or the disability, or the length of time it takes for the skill to become habit.
CONNECTING OUTWARDLY: The rapid advancement of mechanical aides and computer innovations provides an ever-expanding range of experiences for our organisation and our Service Users. So, we can have Skype-pals in China and America as well as Melbourne or Perth. We integrate our social networking so that families and Service Users, as well as staff and the public can find out what we are doing, make comments paste ideas, videos and comments to Twitter, Facebook and the Blog- based website.
LIVING: Our accommodation is NOT residential; it is a home which belongs to the people who live there. They are called Housemates – not residents. They each have a right to individual freedoms within and outside the house and this includes having visitors, family, sleepovers, dinner guests, parties, BBQ's and a variety of individual and shared activities of their choice and according to their abilities.
We see the Flexi 1, 2 and 4 houses as simply three choices in a suite of options within the community. We plan to offer a range of accommodation options over time, from 24hr support, through to no or minimum support. We will support the development of independent living skills in our Service Users, and as alternative living options become available, we will work with our service users and their family to transition as appropriate.
LEARNING: We have introduced new opportunities for Service Users, families and staff to experience different situations, people, languages, food, music and clothing by going away for holidays overseas. Parents were overwhelmed with the way in which their son/daughter took the initiative, coped with being lost, made decisions and developed skills during these holidays.
STRETCHING: We look to integrating Sports, the Arts, Music, Cooking and services to our community and facilitating the involvement of our rich Indigenous community into more of our cultural experiences as evidenced by offering an Art Course with a local indigenous artist Aicey Zaro. We look to community service through volunteering, employment and education opportunities.
RECRUITING: For our staff, the Flexi Philosophy means access to regular, focused and challenging training. It allows them to specialise in areas of service delivery and gives access to regular debriefing, staff meetings and ongoing support and evaluations through annual appraisals conducted each year.
No experience or accreditation required, as we work hard to provide the conditions and the funding to support Accredited training for all staff to Diploma level if they desire. Through the organisation we have a number of staff holding several Certificates III & IV, with some working towards a Diploma.
PARTNERING: We are enthusiastic to partner with organisations and individuals who share our belief in the opportunities that can exist for Service Users, service delivery, support for parents and families as well as for our staff. We look outward to what may be possible.
We have local partnerships with the Burdekin Council, the Burdekin Library and Burdekin School. We partner with other services in the region: Cootharinga, Bowen Flexi Care, BCMH, Spinal Injuries, NQ Employment, Endeavour Foundation, Epilepsy Queensland, Dementia Services Australia, PCYC and a number or local Allied Health Services.
Flexi Queensland is a service that is user driven and we find ways to make things happen. We focus outwards into the community not inwards to ourselves, we look to the community for accessing services not to us to provide duplicate services and we will focus on finding ways to provide supports which do not exist to meet the ongoing needs of our service users.
We are Service User driven. This means:
a. It is Flexi's task to find ways to meet Service User demands.
b. Flexi does not offer a suite of services which are chosen – we create services around the person according to their wishes, we offer options.
c. Flexi looks outward to the community.
d.Flexi participates in the community.
e.Flexi seeks to role model to the community best practice in respectful communications with People with Disabilities.
f. Flexi listens and hears what Service Users and their families want and need
g. Flexi finds ways around obstacles.
h. Service Users and their families can, as far as possible, choose workers they feel comfortable with, including family members.
i. Support Plans can be altered, adjusted, added to or revised at any time.


We operate in ways that are ethical and transparent. This means:
a. We seek input by the community in our decision making.
b. We are open to challenge.
c. We are not afraid of difficult conversations, complaints or competing interests within our services or Service User families.
d. We seek to have clarity in our words and written works.


In delivering services we focus on communicating clearly. We:
a. Recognise that it takes time for families and individuals to get to know us.
b. We will provide as much information in different formats to ensure information is widely spread.
c. We will provide written information which keeps people as up to date as possible and reminds them of our service obligations including the service planning, delivery and complaints procedures.
d. We will, as far as possible, plan ahead, foreshadow to families and in our planning, matters that need, or may need, to be discussed.
e. We will use augmented communication devices and a variety of other communication tools or reminders to assist services users to create plans that have meaning for everyone.


Organisational Governance, Policies and Procedures can be accessed by Service Users and their families at any time.


Dignity of Risk and Risk Minimisation and Management are themes within the planning process.


We seek feedback from the Service Users and family and Flexi on a regular basis.


We work to support the Human Rights Principles which state that all people with disabilities have a right to the same human rights as others. Namely:
a. People with a disability have the same human rights as other members of society and should be empowered to exercise their rights.
b. People with a disability have the right to:
     i.    respect for their human worth and dignity as individuals; and
     ii.   realise their individual capacities for physical, social, emotional, cultural, religious and intellectual development; and
     iii.  live lives free from abuse, neglect or exploitation; and
     iv.  participate actively in decisions affecting their lives, including the development of disability policies, programs and services.
c. When using disability services people with a disability have the right to:
     i.     services supporting their achieving quality of life in a way that supports their family unit and their full participation in society; and
     ii.    receive services in a way that results in the minimum restriction of their rights and opportunities; and
     iii.   receive services in a way that respects the confidentiality of their information; and
     iv.   receive services in a safe, accessible built environment appropriate to their needs; and
     v.    pursue grievances about services without fear of the services being discontinued or recrimination from service providers; and
     vi.   support to enable them to pursue grievances about services; and
     vii.  support, and access to information, to enable them to participate in decisions affecting their lives.
d. People with a disability have the right to receive services, and information necessary to support rights, in ways that are appropriate having regard to their disabilities and cultural backgrounds.